Ladies Auxiliary & Ladies in White
Ladies Auxiliary & Ladies in White
Ladies Auxiliary
In the early 1940s, many men were called into military service to fight in World War II. Because men who volunteered to fight fires at night were no longer available during the day, the Citrus Heights Volunteer Fire Department was left short-handed.
Chief Eugene Desimone filled the need with the Ladies Auxiliary. Chief Desimone appointed and trained a group of women recruits to provide firefighting services during the daytime. There were enough women volunteers to fully staff the Greenback and Mariposa fire station.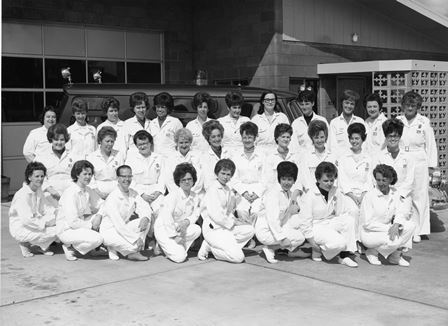 Ladies in White
In 1951, Chief Desimone responded to a fire on Auburn Boulevard when he encountered an accident involving a bus and a car. He was forced to leave some of his men to handle the accident while the rest proceeded to fight the fire. In the aftermath of his dual emergency, he spoke to his wife Zella about reinstating the Ladies Auxiliary and training them to handle first aid emergencies.
The Ladies in White provided volunteer emergency response services throughout the area from 1951 - 1986. They pioneered the concept of medical response teams working in conjunction with local fire departments and provided an organizational model that other communities would soon follow. The Ladies in White generously donated their time, talent, and training to aid and assist those in peril.
Training & Supplies
The women received training from local hospitals, the Red Cross, and local firefighters, which usually required 3 to 6 months to complete. In addition to initial training, the dedicated volunteers were required to participate in monthly drills to maintain their Rescue Workers certificates. Upon completion of training, they were issued uniforms that were modified painters coveralls and a medical aid kit. Supplies were added at their own expense. The Ladies in White were assigned their own radio which was used in dispatching them to emergencies. Medical Assistance Always on call, the proud Ladies in White lived in and around Citrus Heights. They covered an area of 38 square miles, using their own vehicles or "Ol' Rescue". By the 1960s, they responded to over 600 calls. These included not only fire-related emergencies and accidents, but a range of medical assistance including:
Application of splints and bandages
First aid administration
Mouth to mouth resuscitation
Transportation
Delivering babies, often in less than desirable conditions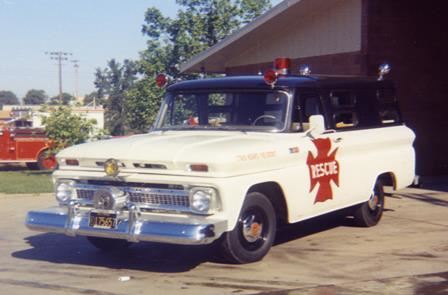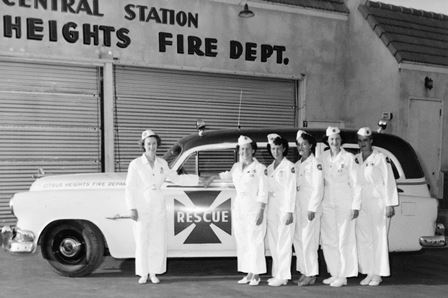 About the Name
The name "Ladies in White" aptly describes the all-female squad who slipped into their all white coveralls when summoned to an emergency. Fastened to many of these uniforms were a diaper pin with any number of safety pins attached to it. This signified the number of babies each had delivered. Skilled in a variety of rescue and medical techniques, the ladies successfully competed in national and international events.
Historical Contributions Publication
The City of Citrus Heights takes great pride in the legacy, strength and dedication of the Ladies in White and the Ladies Auxiliary.
The women who were a part of the Ladies in White and Ladies Auxiliary worked selflessly in their positions. When asked if she ever got tired of receiving calls in the middle of the night, Lois Patterson, Louise Patterson's sister-in-law, immediately responded, "Oh no! It is an honor to be part of the Ladies in White."
The City of Citrus Heights has published a book based on the historical contributions of this local WWII era all-female volunteer firefighting brigade, which eventually evolved into one of the nation's first and most effective volunteer first aid programs. This book combines historical information the city has amassed over the years including oral history interviews, donated photograph collections, and information from both the city's and the Sacramento Metropolitan Fire District's archival collections. Visit the Lulu Bookstore website to purchase a copy.