Part 3: 1915 - 1969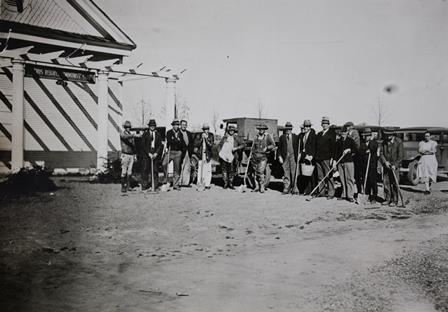 The Van Maren Family & Community Development
Adolph Van Maren, successor to his father Peter Van Maren, played a leading role in community development for many years. He served on the San Juan School Board, and contributed to the development of San Juan High School in 1915. The present site of the Citrus Heights Community Club House on Sylvan Road is on land donated by Van Maren, while the actual building is the old Sylvan School House moved after a new school facility was built in 1927.
Great Depression
During the Great Depression in 1932, Citrus Heights stopped fruit farming due to a winter freeze that destroyed most of the working orchards.
Signs of Growth
Business Development
The increase in both resident population and visitors traveling on the new state highway led to increased business opportunities. William Cobb established a store and service station opposite the school, and Mr. Alexandra established the Cripple Creek Service Station and Auto Camp further up on Auburn Boulevard. A volunteer fire-fighting group was organized in 1934 and in 1935, the Citrus Heights Fire District, Inc. was established.
Community Activities
One of the most fondly remembered community activities was the annual Road Day, sponsored by the Community Club. Beginning in 1924, almost all of the township's 200 families came out to help patch holes in country roads, clean drainage ditches, plant trees on school grounds, and lay sidewalks.
Public Library
Although the first small library facility in Citrus Heights was ran out of a private home with an inventory of 50 books in 1908, the community built a new library building at the corner of Auburn Boulevard and Sylvan Road in 1930.
A substantial influx of newcomers following the end of World War II put a severe strain on Citrus Heights' limited water supply. New subdivisions of one, two, and five acre lots were creating increasing needs for the provision of public facilities to new families seeking a rural town. In 1947, Citrus Heights obtained its own post office. New businesses continued to appear along Auburn Boulevard, Mariposa Avenue, and Greenback Lane to accommodate the growing population.
Education
The San Juan Unified School District saw phenomenal growth and completed the decade with eight elementary schools and one high school.
Emergency Rescue Units
Around this time, Mr. Eugene Desimone organized the Citrus Heights Ladies in White as an emergency rescue unit of fifty members, each holding advanced first-aid cards and required to respond 24 hours a day. The advent of professional ambulance service in 1983 led to the group's disbandment.
Commercial Development
By 1960, the population of rural Citrus Heights had reached 22,600. Auburn Boulevard continued to serve as the community's main street, spurred by the construction of the Grand Oaks Plaza in 1960, one of the first enclosed malls in the country. Later, significant commercial development, including Sunrise Mall, Birdcage Walk, Fountain Square, and Sunrise Village, shifted the commercial focus eastward toward Greenback Lane.
During this time, the rocket motor manufacturing plant Aerojet General was booming; employing more than 19,000 people at its peak during the early 1960s, after which it saw a steady decline to less than 4,000 in 1977. The plant attracted new residents to Citrus Heights, developing a more professional and scientific demographic.