Permit-Ready ADU Program
Permit-Ready ADU Plans Now Available
Looking for a faster, low-cost way to build an accessory dwelling unit (ADU)?
Thanks to a grant awarded to the City by the State Department of Housing and Community Development (Local Early Action Planning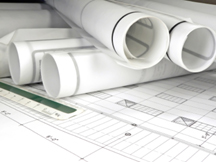 Grant aka "LEAP"), the Citrus Heights has a selection of ADU plans available for use by the community… Free of charge!


The permit-ready ADU plans offered through the program include two 1 bedroom/1 bath models and one 2 bedroom/1 bath model. Each model offers a choice of roof lines, exterior finishes and an interior layout of accessible features such as wider doorways and hallways. The permit-ready ADU plans also come in a reversed plan format where the plans can be flipped to meet site conditions and accessway needs. These ADU plans come pre-approved by the Building Division, meaning a stream-lined permit process and significant savings for the interested ADU owner.
The permit-ready ADU catalog provides the floor plans and design options for each of the available plans. Each floor plan is available with varying roof lines and exterior finishes and is also available in a reversed plan format where the plans can be flipped to meet site conditions and accessway needs. The plans feature a variety of accessible features including lower-threshold doorway entries and open floor plans for maneuverability.


The first step in selecting your preferred ADU design is to prepare a site plan to confirm your property can accommodate your choice. Refer to the webpage, How to Prepare a Site Plan for guidance on preparing your site plan.
After you have chosen a permit-ready plan, the following is an overview of the building permit submittal process:
Submit for the building permit on-line through the Citizen Access Portal. When completing the application include in the description the name of the ADU you are selecting (also note if you want the standard layout or the reverse model. The catalog shows the standard layout).
Attach a detailed plot plan and any other drawings needed for your project (utility plan, solar plan, etc.).
Sign and attach the required hold harmless agreement.
Sign and attached the right-of-entry agreement. This is optional but we ask for your permission to photograph/video your project's progress and the ability to use the footage in marketing and promotional materials.
In the permit application description, please note the plan name you are selecting. Make sure to note if you want the floor plan standard or in reverse. The Permit-Ready ADU catalog shows the standard floor plan.
For questions, contact the Planning Division at (916) 727-4740 or planning@citrusheights.net.